V a l b y   S t u d e n t   a p a r t m e n t s
Valby studio apartments has been renovated in 2015. When you rent an apartment you get access to  a laundromat and a large common work- and meetingspace.
The building is close to Vigerslev Allé train station which brings you to Copenhagen central station in 15 minutes.
To apply you need to be a student or under 30 years old when you move in.
All locations has a common laundry.
Free reliable high-speed internet is included in all rooms and in the common areas.
Each apartment has its own small kitchen, equipped with a refrigerator and 2 hotplates.
You have access to a common study hall, with room for studying, meeting, and relaxing.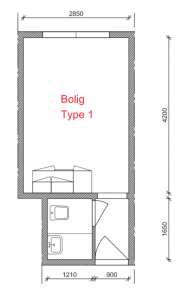 Luminous and spacious studio apartment of approx. brutto 24m2 incl. common areas. The apartment has a kitchenette (combi fridge with freezer, sink and two stows), wardrobe space, a large bathroom with shower, and a French window.
Rent DKK5250 + DKK 650 in service charge for electricity and heating per calendar month
Deposit DKK15750 paid prior to moving in
Please note that we only have 10 apartments of this type
.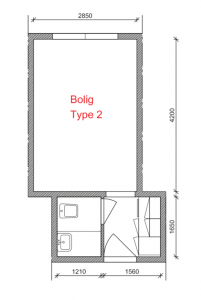 Luminous and spacious one-room apartment of approx. brutto 26m2 incl. common areas. The apartment has an entrance hall with a kitchenette (combi fridge with freezer, sink and two stows), wardrobe space, a large bathroom with shower, and a French window.
Rent DKK6150 + 350 DKk  in service charge for electricity and heating per calendar month.
Deposit DKK18.450 + 1 month pre-paid rent to be paid prior to moving in
Please note that this type makes up for 90% of our apartments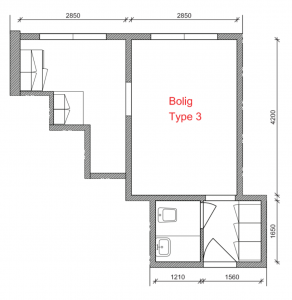 Luminous and spacious 1,5 room apartment of approx. brutto 36m2 incl. common areas. The apartment has a kitchenette (combi fridge with freezer, sink and two stows), an extra room, wardrobe space, a large bathroom with shower, and a French window.
Rent DKK7.100 + DKK 650 in service charge for electricity and heating per calendar month.
Deposit DKK21.300 paid prior to moving in + 1 month pre-paid rent to be paid prior to moving in
Please note that if you live more than one person(maximum 2 )  there will be an extra fee on the rent
Please note that we only have 3 apartments of this type